As always, thank you for being a part of the community! It's been almost three months since our last major community update and we've had a lot going on, so we wanted to fill everyone in on some of the more significant developments. And if you're not already a member of our online Discord community, please join us today!
Thank You to Our Donators
First, we would like to express our sincere gratitude to our newest donators: Bifrost and Linda W. Thank you as well to our current monthly supporters: Sandy S., mind exploration, Tadzo, rustybikes, acidjames, Krish, Candace, and Rebecca W. Meditation Mind operates 100% on donations, so this community would not be possible without you. See a full list of present and past supporters here.
Support Meditation Mind: Patreon Refresh + Ko-fi
On a related note, we have completed a long-overdue refresh of our Patreon page and we have also created a brand-new Ko-fi page, which also supports one-time donations.
Patreon and Ko-fi are services that allow community members to support the community and receive fun perks in return. Both services support monthly subscriptions at preset donation amounts, known as "tiers," and each tier offers unique rewards. All subscription-based donators receive a tier-specific vanity role, access to a private donators channel, and the ability to choose a custom color role. Higher tiers offer more rewards, including a Steam key for Playne: The Meditation Game. The first three tiers are shown below.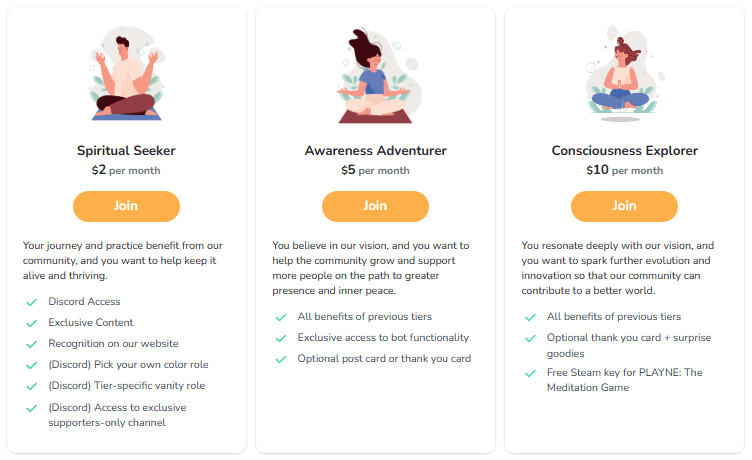 In addition to the tier-specific vanity roles, we have also created special vanity roles for long-time monthly supporters which also include a unique role icon to let everyone know you help keep the community alive. Monthly supporters who have supported us for one year or longer receive the @Long-Time Supporter role. At three years, this is upgraded to the @Community Guardian role. These roles can only be displayed while a monthly subscription is active, but once earned, they are never lost. If a supporter suspends a subscription and then returns later, they will be restored. See the icons and colors below.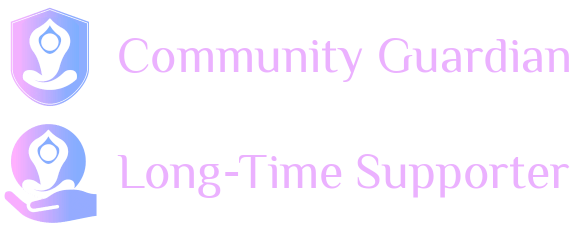 Depending on conditions and availability, supporters may also receive physical rewards. We do our best to make our supporters feel appreciated! Note that all contributions are used exclusively for bot development, website maintenance, and community features and improvements.
New to Bloom: Personal Graphs, Suggest, & Quotes!
We recently announced the version two release of our custom bot, Bloom, which included extensive restructuring, along with the transition to slash commands and the introduction of beautiful new server stats graphs. Now, we're delighted to announce the addition of personal stats graphs (which many of you will have noticed already), as well as two brand-new features: server suggestions and quotes!
Server suggestions will now be posted by Bloom and thus remain anonymous. This also means that all members will now be able to vote on all suggestions. (Previously, a user who had been blocked by the suggester would have been unable to vote on a suggestion.) Bloom will also automatically create a thread for discussion. To make a suggestion, just use the /suggest command. See below for usage.

We're also super excited to introduce quote functionality! We've added a huge selection of meditation and mindfulness quotes to Bloom. Like before, Bloom shares a random quote each time a user logs meditation time in #meditation-challenge, but now you can also request a random quote with the /quote command! Please use this sparingly outside of #bot-commands. See below for usage.

While quotes can only be added by staff members, monthly supporters (tier two and up) can suggest quotes for addition to the database (subject to approval; must be related to primary server themes).
Onboarding & Customizing the Community
Discord has now introduced Community Onboarding for partnered communities. Community Onboarding presents new users with a series of questions that allows them to customize their channels and roles. If a user does not choose any of the optional channels or roles, they will only see a very limited selection of default channels (12). Onboarding only includes five questions, and further customization is available in #Channels & Roles (near the top of the channel list). Community Onboarding and Customize Community have replaced #assignable-roles, so if you're missing a channel or role, please check #Channels & Roles or ask a moderator for help. See a preview of the onboarding process below.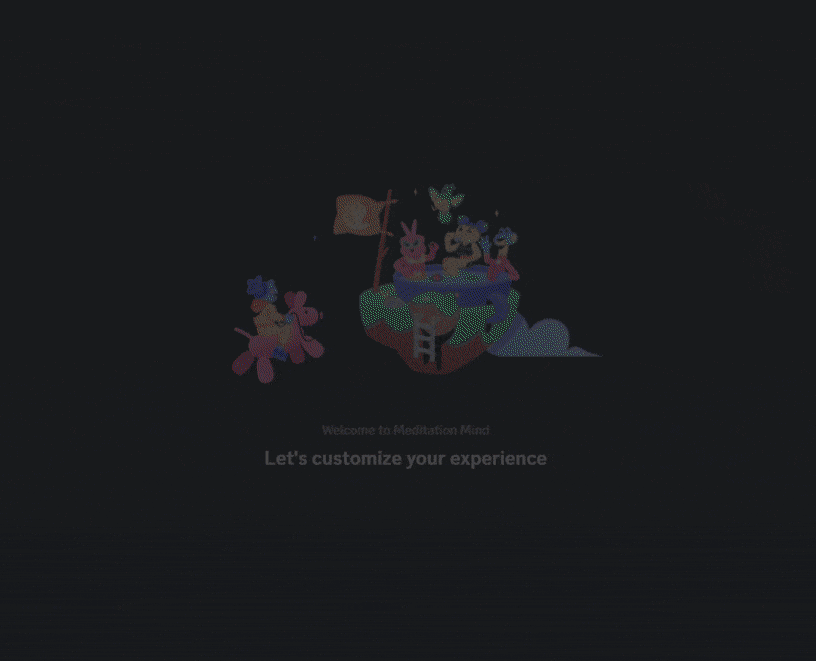 Mindfulness Course Enrollment Growing
We've now had more than 100 total enrollments in our free four-week online mindfulness course! This is amazing—thank you to everyone who has signed up!
However, we've only had a handful of community members who have claimed the course graduate role. If you completed the course in its entirety, you should have received instructions on how to claim your role. If you completed the course but did not claim your role and would like to, please send a message to @ModMail.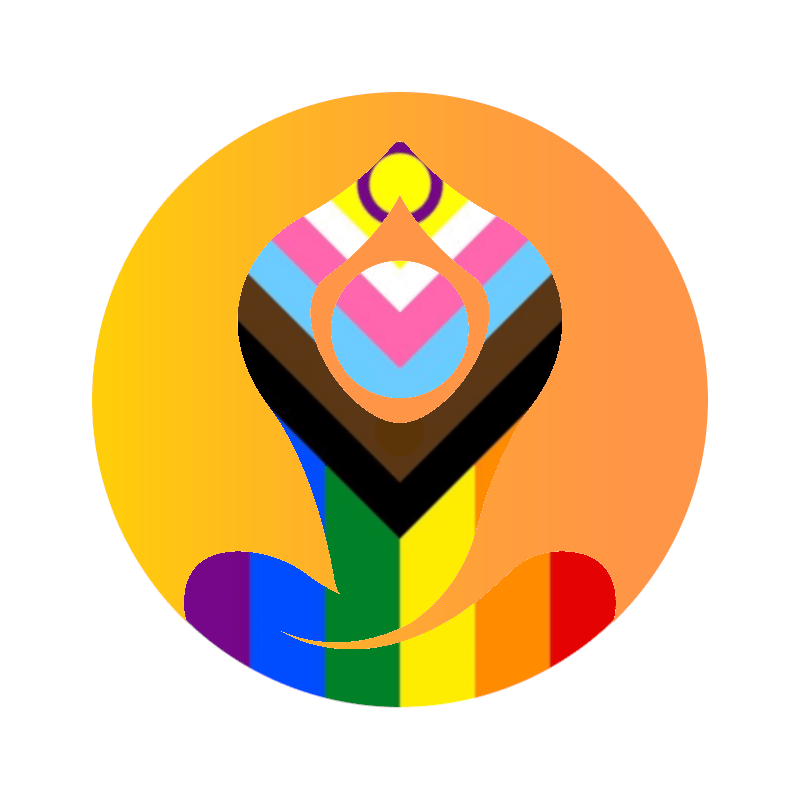 Meditation Mind is a diverse and inclusive community. We strive to maintain a warm, welcoming, and wholesome atmosphere, free of judgment and open to all, regardless of sexual orientation, gender identity, or gender expression. In our Discord community, we provide a private channel as a safe space for anyone who identifies as queer or questioning. Simply join the community and visit #Channels & Roles to get access.
Odds and Ends: Winter Icon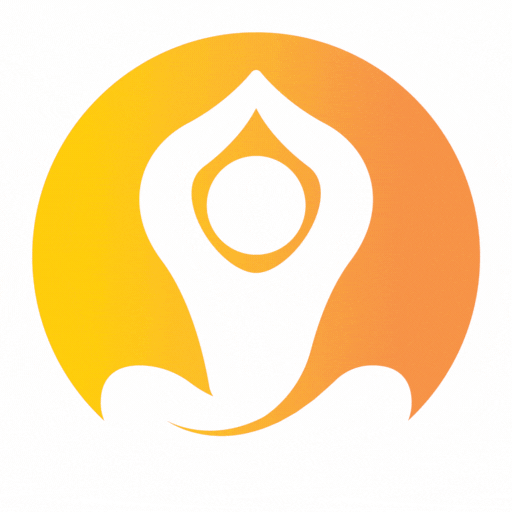 Did you notice it has been snowing in our animated server icon for the past few months? For many of us, the cold winter months will soon be drawing to a close and spring will be upon us. Before we say goodbye to the snowy icon, we just wanted to give it a moment in the spotlight... since only one person mentioned it (haha)!
That's it for our February update. If you have any feedback or suggestions, feel free to get in touch via @ModMail or /suggest!
---
---